Future Friday programme
On Friday, September 17th, 2021, the Future Friday will take place again. The third day of the event will be devoted in particular to future topics for hearing acousticians and the hearing instruments industry.
Click here to get to the morning events (short videos and information)
Future Friday in the morning in Exhibition Hall 6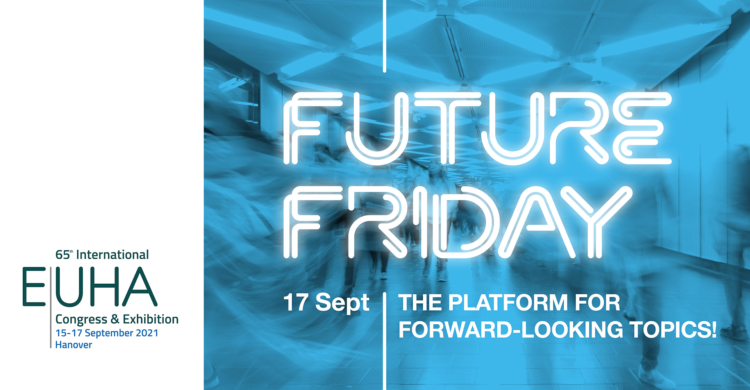 In the morning, events will be held at the exhibitors' stands. All exhibitors with booked stand space are invited to register by August 16th here if you would like to offer an event (e.g. presentation, demonstration) on a future topic at your stand on September 17th between 9.30 a.m. and 1:30 p.m.
What do we need from you?
Please tell us two possible times for a Future Friday event at your stand. Describe your topic in a short text (max. 300 characters). You are also welcome to send us a short video on your topic (max. length 40 sec.) in mp3 or p4. If you would like to participate in Future Friday, you will receive FTP server access after contacting us, where you can upload your video. Simply send an email to bvhi@finkfuchs.de.
We will present the short videos, together with the times and your stand number, on this website and we will also draw attention to your events on site. Please send all information including the video by latest August 30th, 2021.
In the afternoon, from 2 p.m., you will hear what the future holds for the hearing acousticians and the hearing instruments industry in top-class keynote lectures.
The following keynote lectures will take place on Friday, September 17, 2021:
02:00– 02:30 p.m.
Future Friday:

Prof. Tobias Moser, Institute for Auditory Neuroscience & InnerEarLab University Medical Center Goettingen

"Update optogenetic cochlear implant"
02:30– 03:00 p.m.
Future Friday:

Dr. Birgitta Gabriel, Business consulting for hearing care professionals, Ellerbek
03:00-03:30 p.m.
Future Friday:

Stefan Menzl, Chairman Technical Committee EHIMA, Brussels, Belgium

The future of hearing instruments– The next big thing?
03:30-04:00 p.m.
Future Friday:
Scott Peterson, VP of New Product Development for HIMSA, St. Paul, Minnesota, USA"Noah ES – Cloud based Extended Services providing reliable, compliant, and scalable solutions"