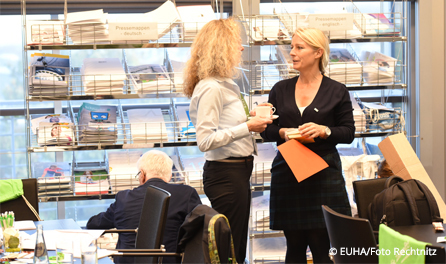 About 8,000 delegates from over 90 countries are expected to attend the 64th International Congress of Hearing Aid Acousticians and the accompanying trade exhibition in Nürnberg, 16-18 October 2019. It is the top-event of the global hearing aid industry, with more than 140 exhibitors showcasing innovations in audiology and modern hearing aid technology in Halls 3A and 4A at the Nürnberg fair grounds. The innovative and broad-ranging conference programme features approx. 25 lectures and several tutorials by internationally renowned presenters. The Congress will focus on the latest results in science, audiology, and diagnostics. Innovations from hearing aid fitting, measuring technology, and accessories will be presented. From August 2019, the congress programme will be available at: www.euha.org
Exhibitors can register from February 2019 at www.ausstellung-euha.org/en/ for booth space and additional services.
General Information and Registration:
http://www.euha.org/congress/information-for-representatives-of-the-media/
Press Releases:
Press releases BVHI and partners will be soon available.
Digital Press Kit
http://www.euha.org/congress/information-for-representatives-of-the-media/digital-press-kit/
Downloads
Documents will be shortly available