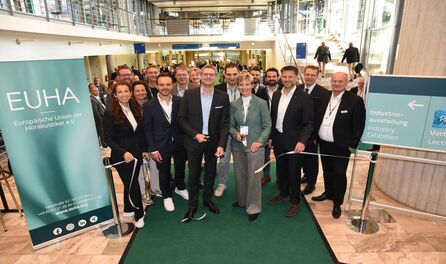 The International Congress of Hearing Aid Acousticians and the International Industrial Exhibition together are the world's largest event for hearing care professionals, which is held annually in Germany. It attracts around 8,000 visitors and more than 140 exhibitors from more than 80 countries, each year. The event is a cooperation project of EUHA (European Union of Hearing Aid Acousticians) and BVHI (German Hearing Aid Industry Association). EUHA is the host and organiser of the world's largest international hearing care congress, and BVHI is the organiser of the industry exhibition.
You can find out about the congress programme and the lecture proposals (call for papers, deadline March 31, 2023) for the EUHA Congress on the EUHA website.
The programme featuring scientific lectures will be held at the following times:
Opening hours of the congress:
Wednesday:  12:30 p.m. – 05:00 p.m.
Thursday:      09:30 a.m. – 05:00 p.m.
Friday:           09:30 a.m. – 05:00 p.m.
Subject to change without notice!
The EUHA is responsible for
The Congress brochure (containing information on lectures, tutorials, hall maps etc.)
The "EUHA App" including all the relevant information on the Congress and the Industry Exhibition is available free for download from the respective stores for smartphone and tablet users.
Advertising in the Congress brochure: If you wish to place an advert in the Congress brochure, please contact info@euha.org
Admission tickets for the International Congress of Hearing Aid Acousticians
Admission tickets for visitors to the trade exhibition
Admission tickts for the Congress Party
The services provided by the EUHA must be arranged and settled with the EUHA directly. Your sole contracting partner is the EUHA.
Contact
Europäische Union der Hörakustiker e. V.
phone: +49 (0) 61 31 / 28 30-0
fax: +49 (0) 61 31 / 28 30-30
info@euha.org